This article was originally published on
Kueez
It's important to dress appropriately for situations, but this isn't always as easy as it sounds. Sometimes we have to try and guess what the actual event calls for, clothes-wise, and when we do this we can run this risk of getting it all wrong. On the other hand, sometimes the universe totally meets our expectations, the stars align, and whatever we chose to wear that day could not have been more perfect. The following photos show people who couldn't have chosen better when it came to the right outfit, whose clothes matched up so perfectly to their surroundings that they might as well have been born there. Get ready to laugh and be amazed at the perfect outfit that exactly fit the situation!
1. Space Brothers Or Star Wars?
These two guys' universe-themed matching t-shirts could really have been the bond that brought them together forever (BFF vibes) or it could have started a huge battle between the galaxies.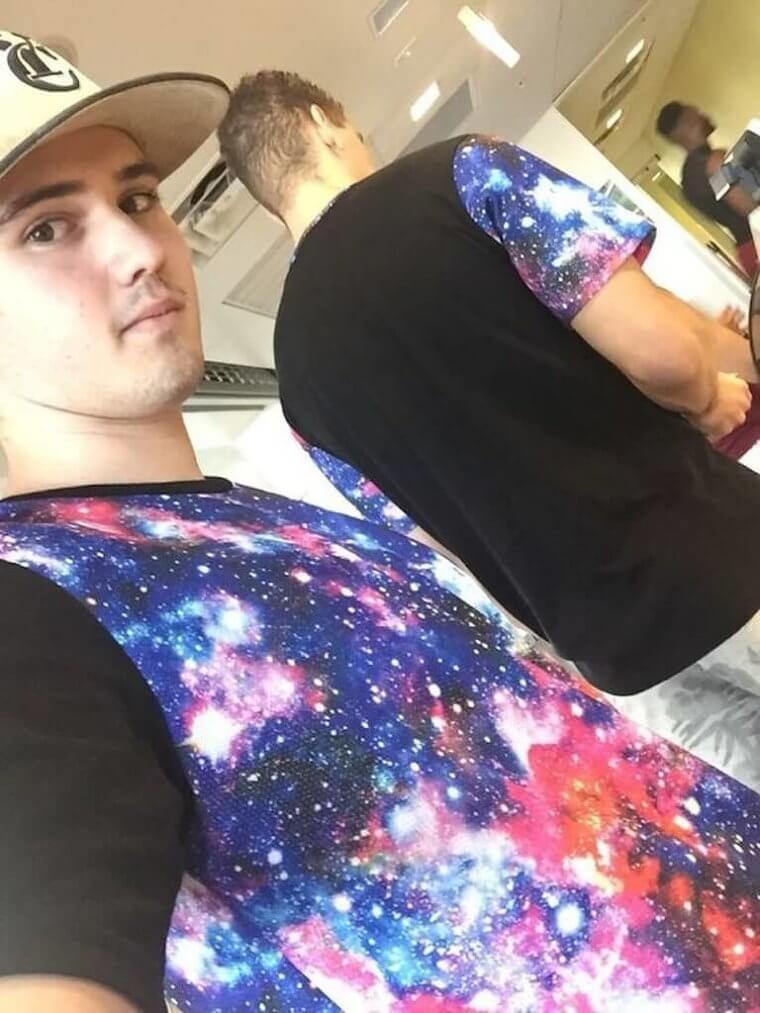 Coming together like two perfect sides of a beautiful intergalactic coin, we love the way these two dudes look next to each other. This is truly the universe lining up.
2. Just So You Know
What a day to wear a shirt like this. No doubt the doctors and nurses are all doubled over, out of frame, laughing until they cry.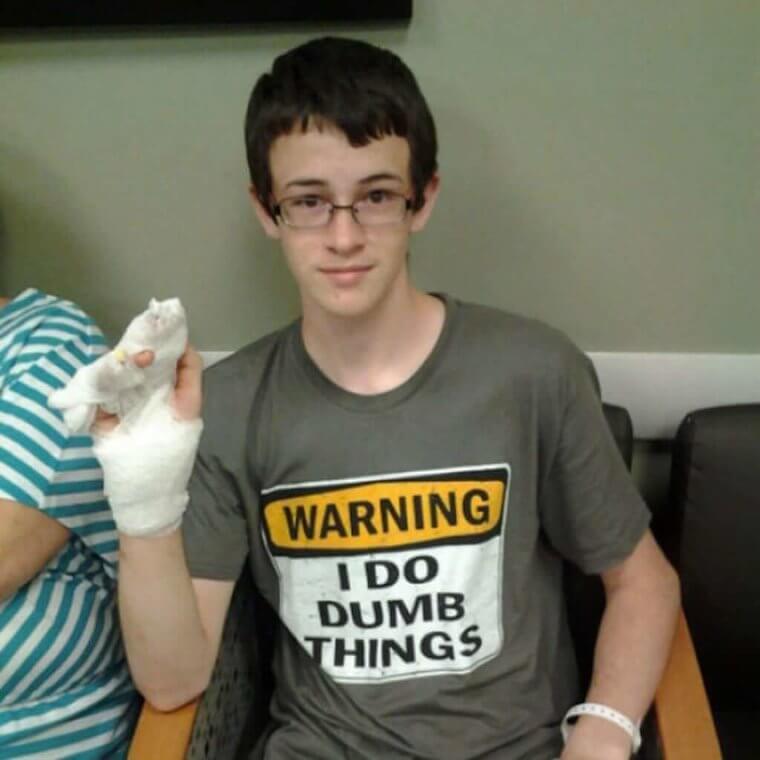 Turning up to the ER, with a broken hand, and a t-shirt saying 'Warning: I Do Dumb Things' could not have been more appropriate. Let's be honest, you can't say he didn't warn you.
3. These Are Guys Are Team Cookie Monster
When you were a kid you probably dreamed about what it would be like to actually meet the Cookie Monster. You know, the beloved cookie-loving friend from Sesame Street.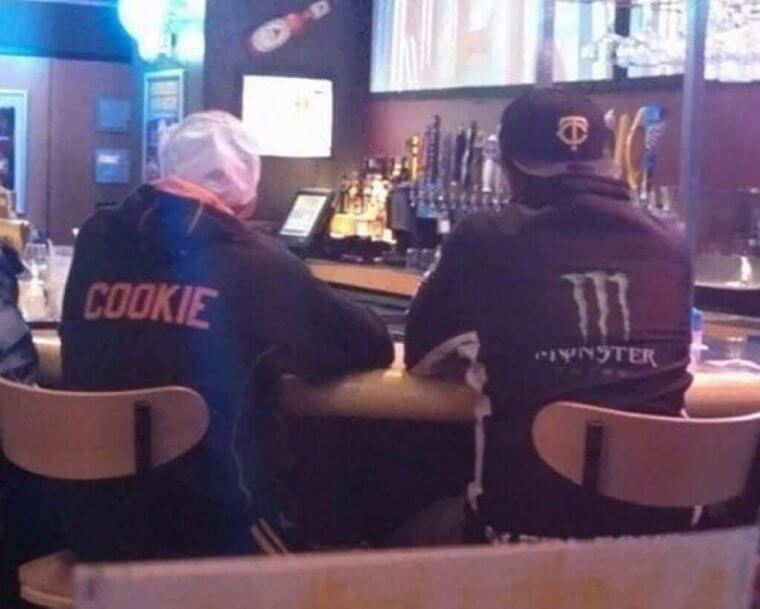 Well, you probably never imagined it would look like this. But the way these two guys sat next to each other just to bring us back to our childhoods. Just in the most unexpected way possible.
4. Hard To Be Unique Nowadays
Not one person, not two, not three, but FOUR people all wearing a top with the exact kind of stripy print? Ouch, that's gotta hurt. And you can see by the expression on this guy's face, it definitely does.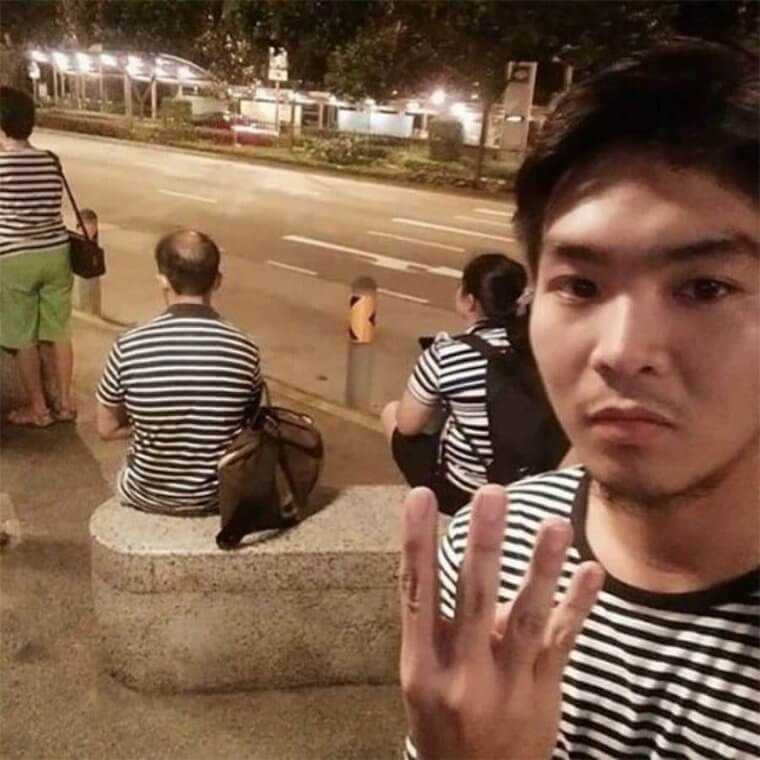 Like, we get that stripes might be in fashion but that doesn't mean that EVERYONE needs to wear them. At least the end result of this photo is pretty hilarious.
5. When Wishes Really Do Come True
Well, you know what they say; be careful what you wish for. In this case, this girl's wish actually came true when she wished she was standing next to Andrew Scott, and next thing you know... she was!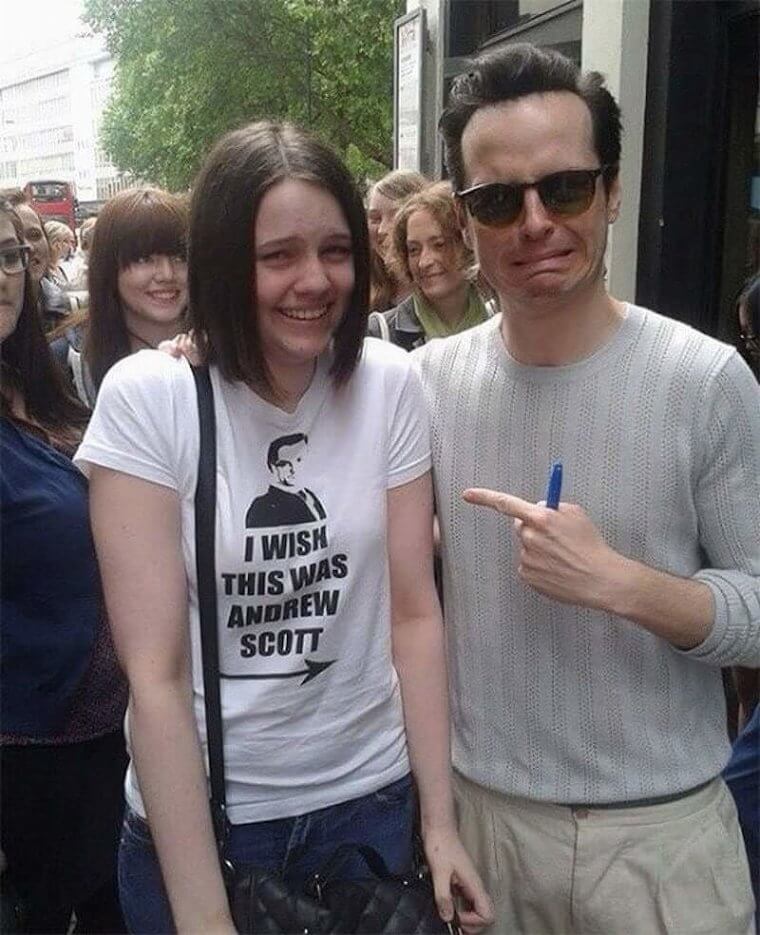 The looks on both of their faces are a sign that when the universe gets things right, it really gets things right. Congrats to them both.
6. Seemed Like A Good Idea At The Time
How many times has this guy been in a situation that could be explained by saying, "Seems like a good idea at the time?" Apparently, enough times to go out and buy this t-shirt.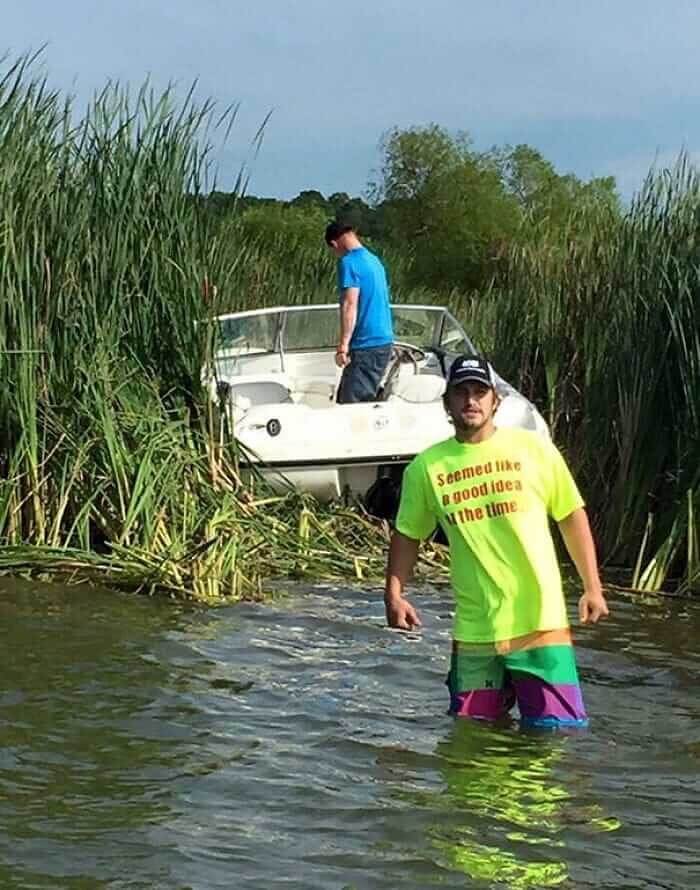 Rather than having to explain the long boring story about how he, his friend, and his boat ended up in this position, he just has it all written out on his t-shirt. 
7. Didn't Expect To Be Kissing This
A Kiss t-shirt was always going to be a bit of a risk, like, is anyone really still a Gene Simmons fan nowadays anyway? Turns out that this guy is.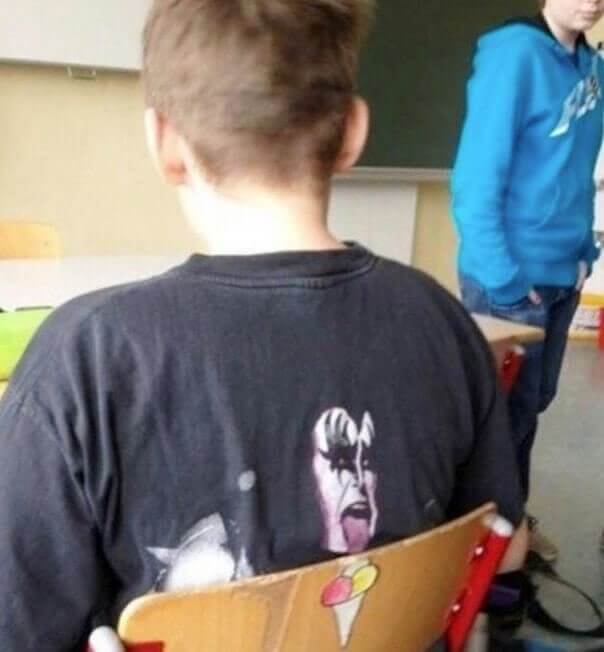 The way he was sitting made it seem that Gene ended up kissing, or licking, an ice cream sticker that was stuck to the back of a chair. When we saw photos of the band members with their tongues out we never expected this, and now that we've seen it, it's all we'll be able to see from now on.
8. Anything Is Possible If You Just Believe
Sometimes a bit of manners and politeness goes a long way. This is one of those times. Maybe if this guys' shirt had been ruder he never would have met his hero, Steven Spielberg.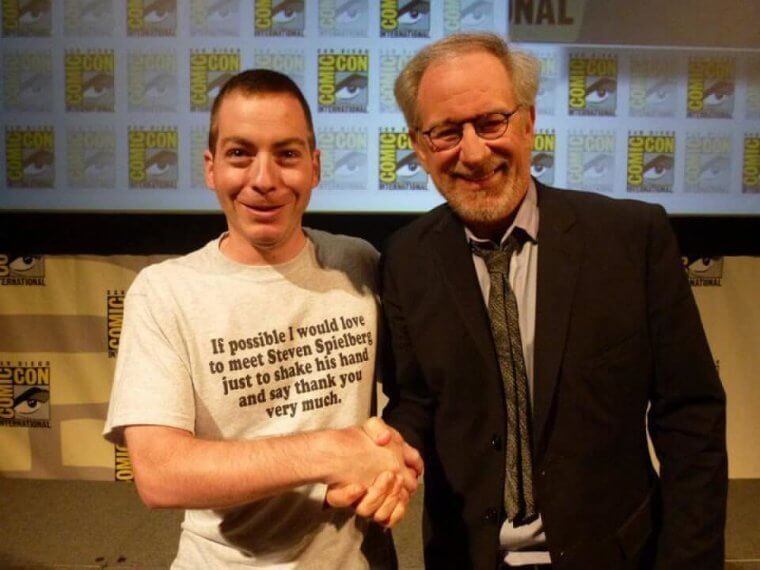 As it happened, he did. And he got to shake his hand and say thank you just as the t-shirt said. He had a dream, his dream came true, and there's the picture to prove it.
9. Accidental Camouflage Gone Wrong
So there's actually a reason why those bright fluorescent orange jackets construction workers wear are so, well, bright. It's so they're able to be easily distinguished from their environment.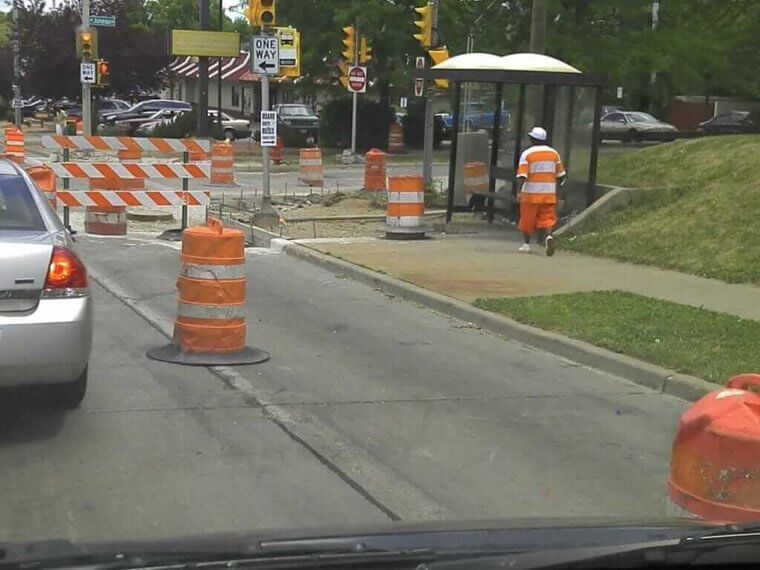 This guy must have missed that memo as he opted for a 'low-visability' situation which resulted in him blending in perfectly to the surroundings around him. Not quite ideal, but makes for a great photo.
10. Anything You Can Do I Can Do Better
All friendships should have a hint of friendly competition, it's what keeps us motivated. Enter the battle of the t-shirts. That's right, this guy can walk the walk. But the guy next to him? He can fly it.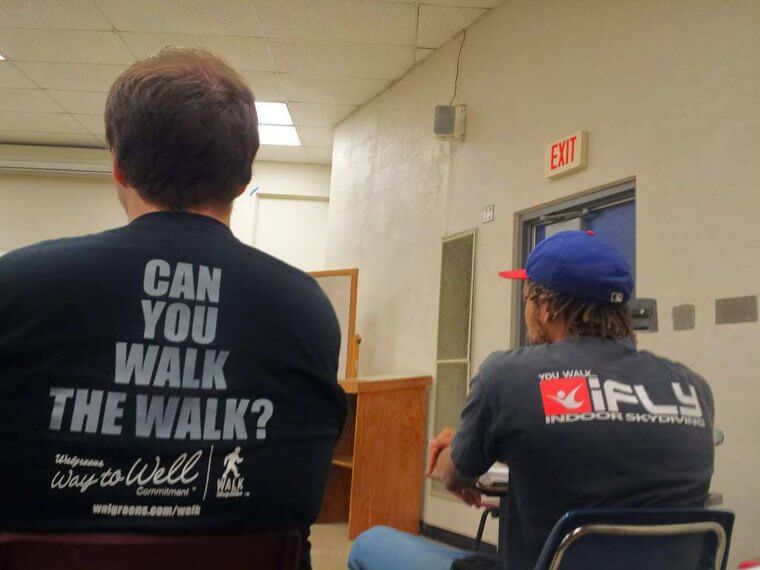 "What next?" We're sure you're asking. We'll just wait for the next guy to turn up with his slogan. Never underestimate the power of clothes, they'll prove who the real winner is once and for all.
11. Terribly Placed Coffee Stain
We can't choose where we spill coffee on ourselves, in fact, if we could not spill any coffee that would be the best situation. But sometimes life happens in ways we don't expect, and this guy wearing a bird t-shirt learned this the hard way.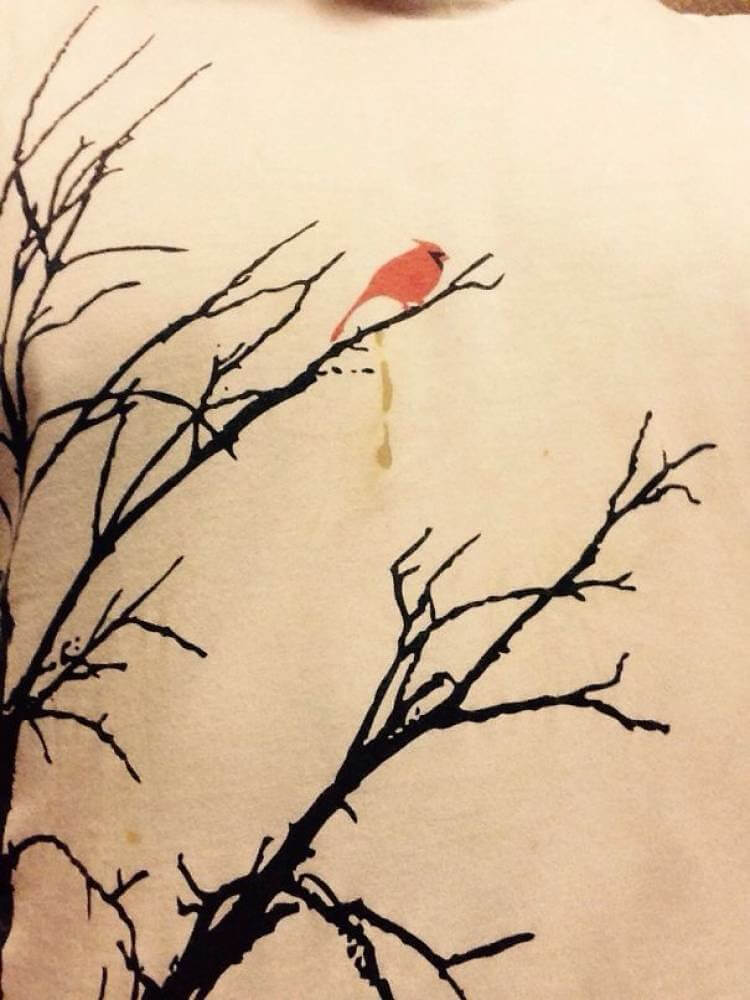 The way that the coffee droplets fell meant that it looked as if the bird was, well, doing his business. It makes for a hilarious photo, but we can't imagine that the guy who had to wear the t-shirt all day found it that funny.
12. Ken You Believe It?
Forget about being a Barbie girl, this guy was already a Ken doll. Finding this doll must have been the highlight of his day, for sure.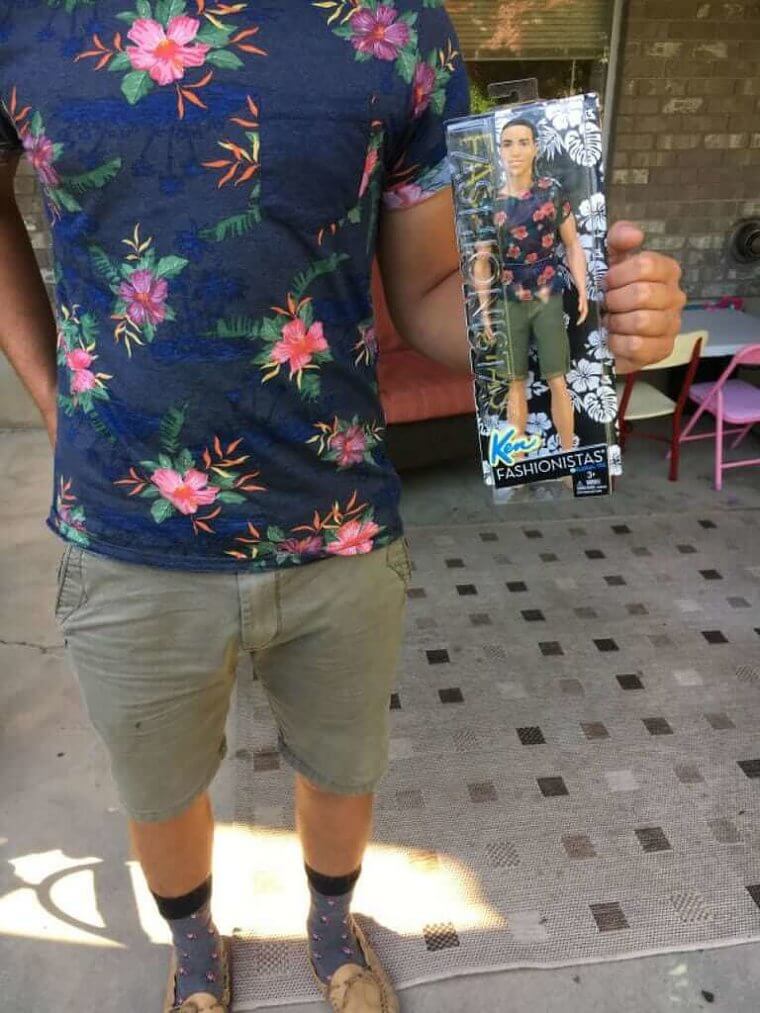 The doll shows you what fashion looks like, but this guy already knew. Of course, he ended up buying it, there was no way he could not.
13. Glitch In The Matrix Vibes
Three guys in a row wearing the exact same shirt? Something must have gone wrong. Or else there is only one local store that is doing very well.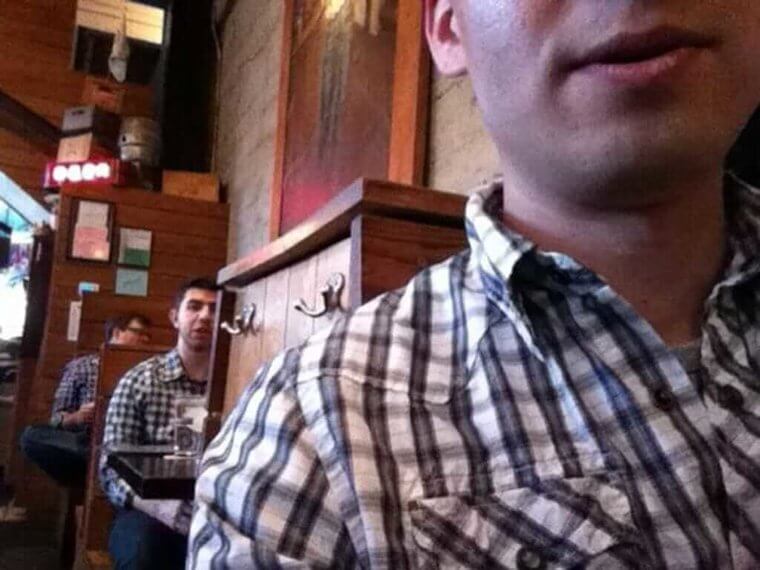 Pretty embarrassing wearing the exact same thing as all the people behind you. On the other hand, they definitely high-fived each other on their way to the bathroom.
14. When The Shirt Leaves You No Choice
Disobedience is fun, we all know this. If someone tells you NOT to do something, especially something really stupid, of COURSE it means that you'll end up wanting to do it!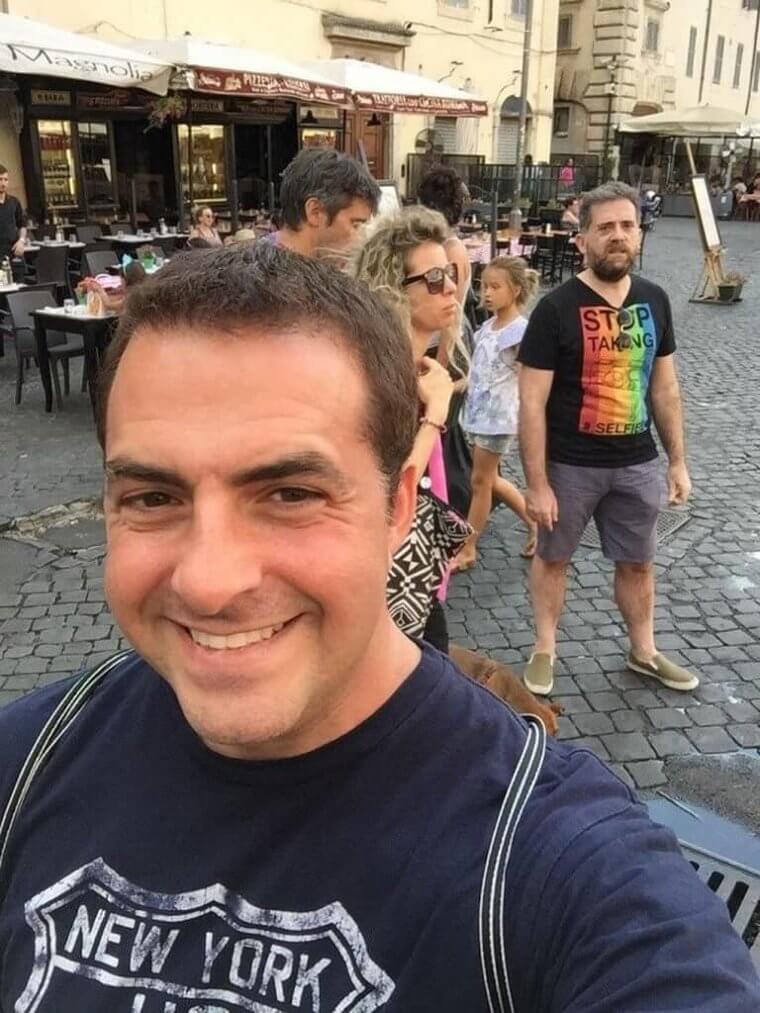 The guy who ordered everyone to stop taking selfies obviously helped to create the perfect environment for this guy to actually take a selfie. What else did he expect?
15. Ultimate Cat Lady Points
When a cat lady meets another lady who loves cats as much as she does you know there's friendship magic in the air!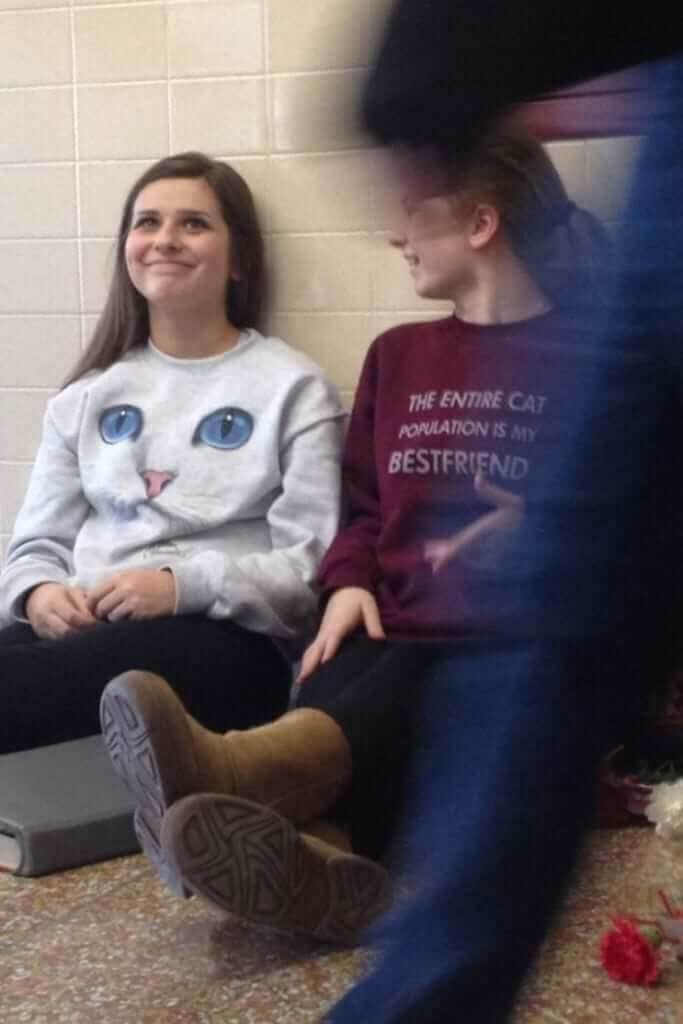 When two cat ladies unite, beautiful things are possible. This moment is a purrfect example of that. You know they're hanging out after this.
16. Matching The Hotel Interior
This one might not have been such a lucky coincidence, as the t-shirt perfectly matched the walls of this creepy hotel corridor. Even she seems unsure about it.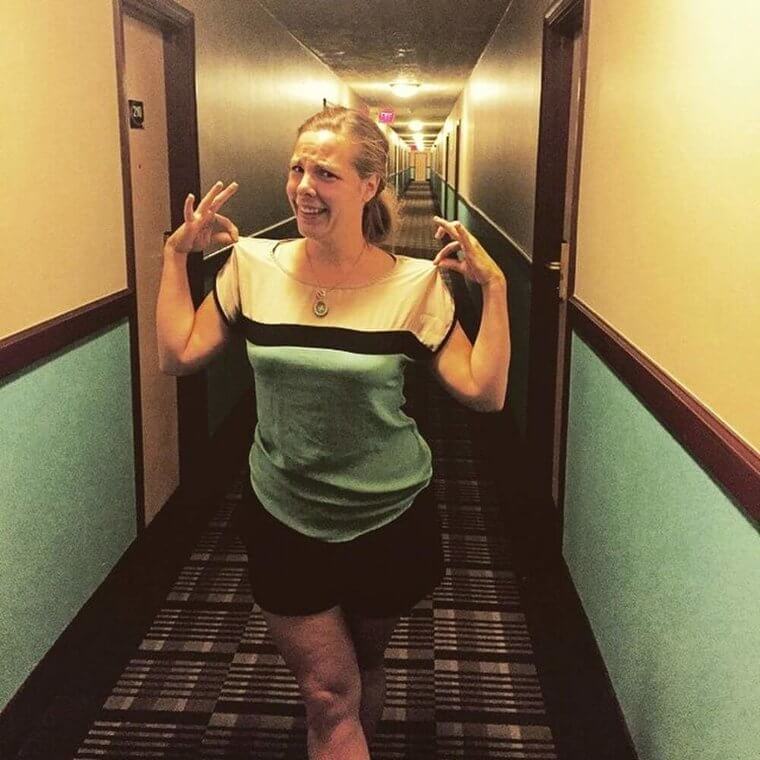 But the reality of the situation? Your dress taste isn't better than some old guy who decided that this is what a standard motel should look like.
17. If The Shoe Fits
Who knows which came first? The man and his dog, or his t-shirt? Either way, the end result is magical.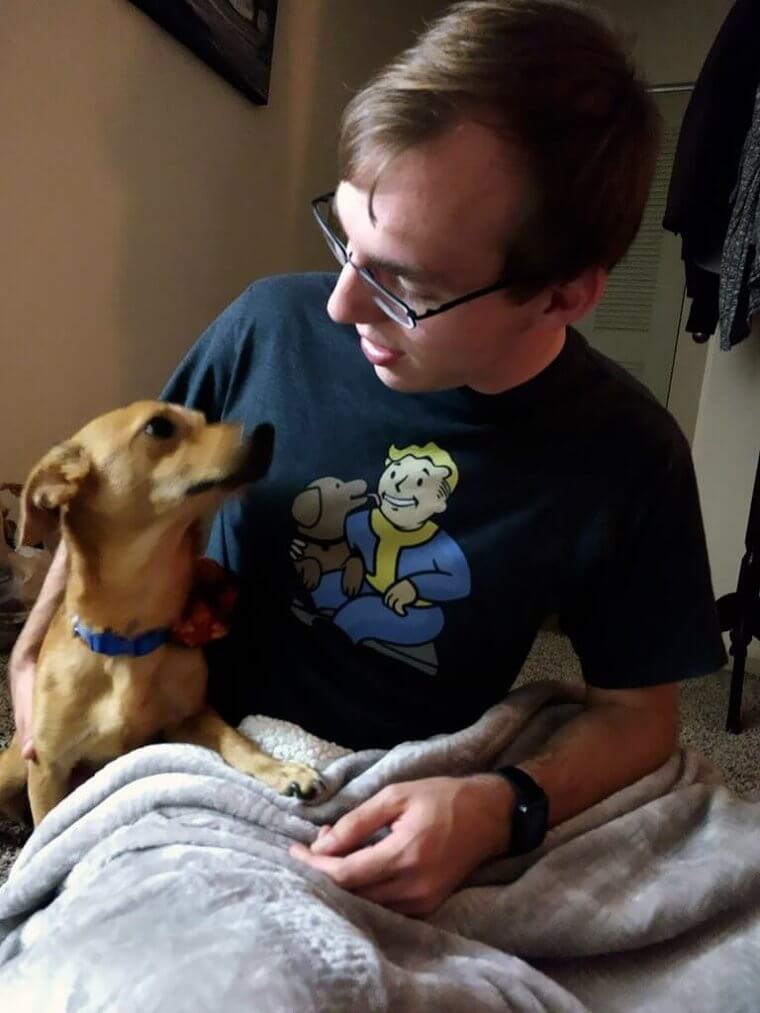 The beautiful synchronicity of this photo being taken while the t-shirt imitates the scene behind is something we've been blessed to see. Just beautiful.
18. A Joke That Never Gets Old
What would you do if you met Christopher Reeve, the man best known for playing Superman? Would you say nothing, or would you pull the stunt you have waited to do your whole life?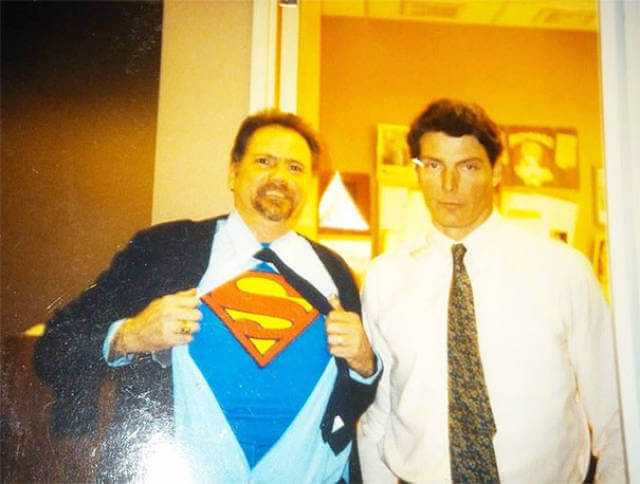 This guy took his chance and did the thing that clearly Reeve has NEVER seen before (sarcasm). Totally worth it for the pic. Dreams can come true.
19. Seeing Floral Double
A lovely beach promenade RUINED by someone wearing the exact same pink floral print top as you! How dare they? An absolute tragedy.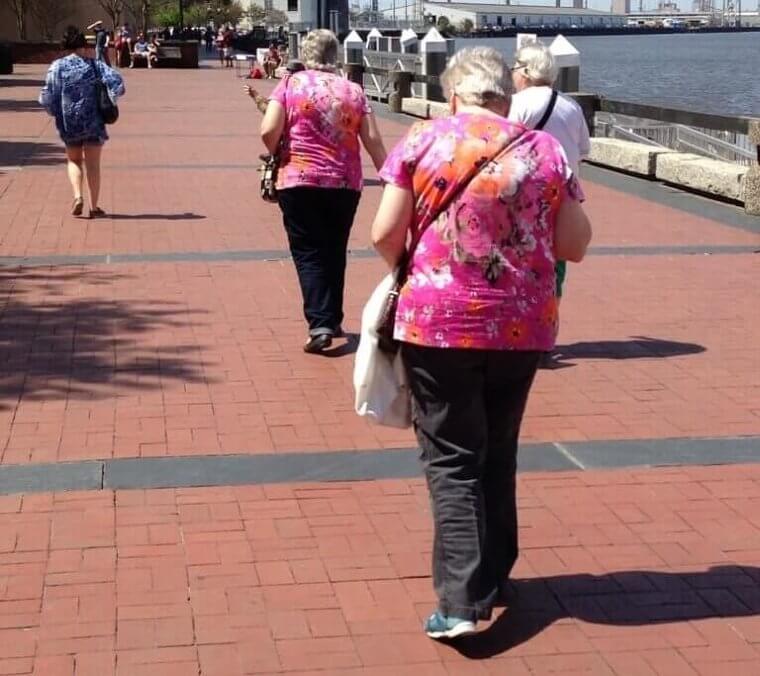 On the other hand, someone else managed to witness the beauty. And on a really positive note, maybe it helped the two affirm their not-so-unique fashion choices.
20. When Predictability Becomes Cute
When you wonder why everything you own is covered in crayon, marker, or some other kind of ink then look no further than the toddler.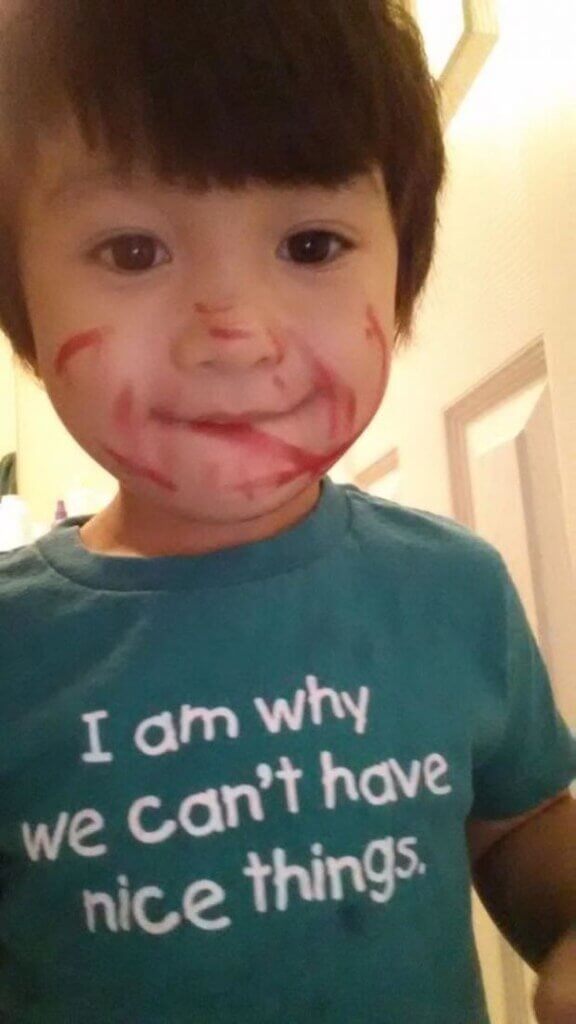 The t-shirt says the facts, and the scribbling on the face confirms them. Sometimes we gotta own up to ourselves and just live our truth, this kid is one hundred percent doing that. And we salute him for it.
21. Nobody's Cooler Than The Dude
The Big Lebowski is an iconic film that gathered a huge following, and rightly so. This guy is one of those fans, with a t-shirt proudly showing off The Dude's face.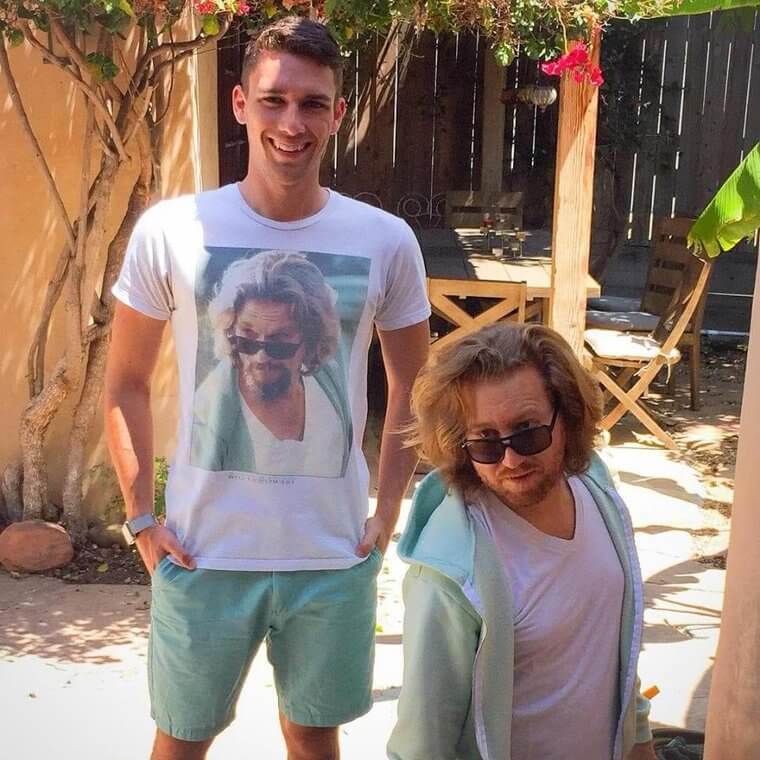 The twist? Someone who looks like, and was dressed like, The Dude was there just in time to take this amazing photo. How incredibly cool is that? The Dude would be proud.
22. Making The Most Out Of Life
It's important to follow your heart and, once we know what we want, we've got to follow it. This guy knows what he wants, and what he wants is a nap.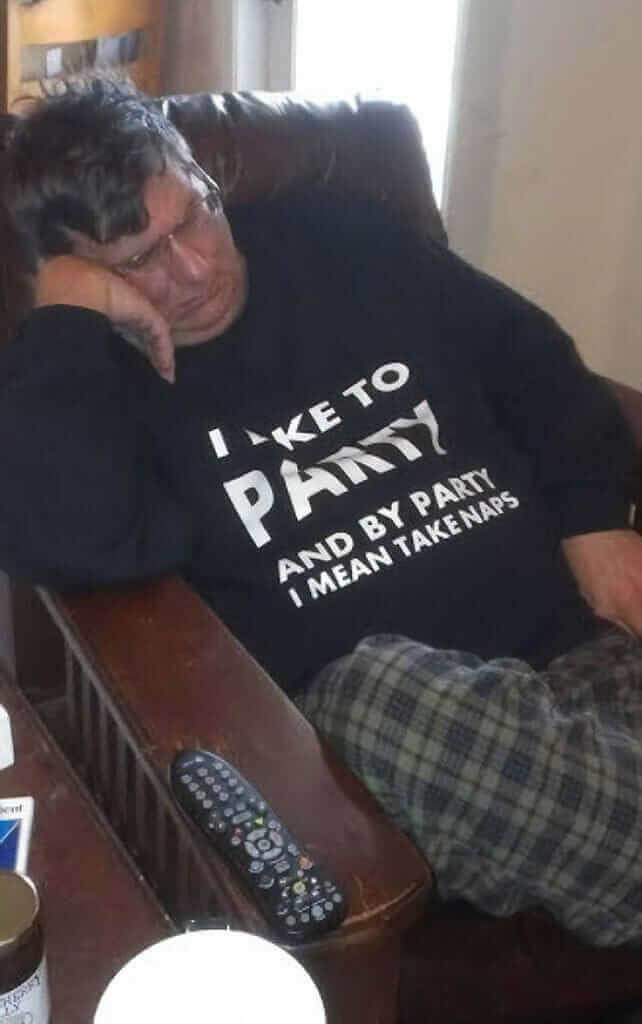 So who's to begrudge him of that? Certainly not us. He lives life the very way he wants to, and he even lets us know. Let's be honest, who doesn't love an amazing nap anyway? We know we do.
23. Something Cooler Than Cool
We can't imagine a better feeling than meeting the guy in real life who is on our t-shirt. That happened to this one lucky guy.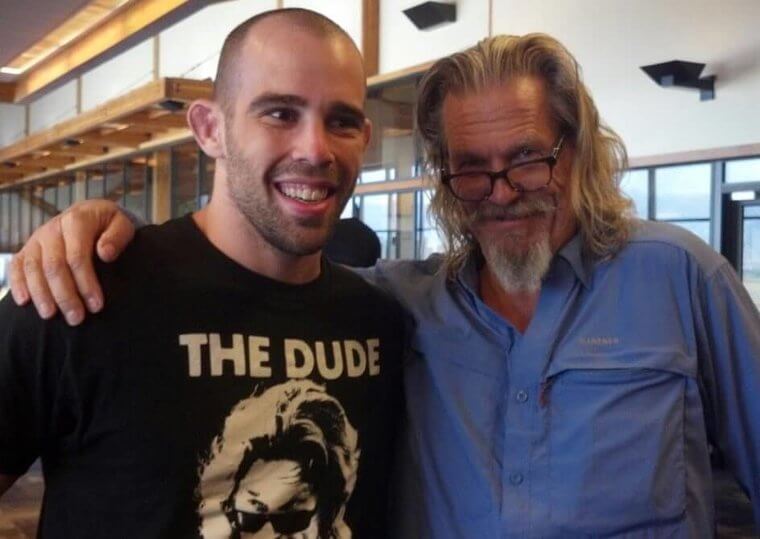 On the very day he wore his t-shirt from The Big Lebowski, he happened to meet Jeff Bridges. What an amazing moment, and you can tell by the look on Jeff's face that he clearly thought so, too.
24. Thinking And Doing Are Two Different Things
Just because he's thinking about safety, doesn't mean that he actually has to follow through.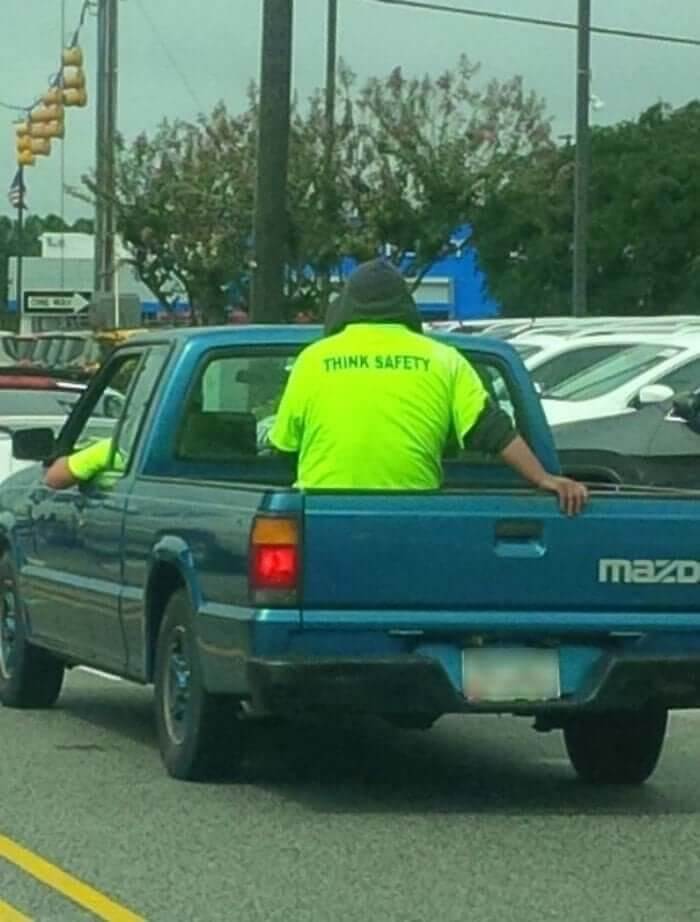 Besides, who decided that riding in the back of a pickup truck was dangerous anyway? Looks pretty safe and secure to us... if you squint a bit. Ok, a lot.
25. We Are All Animals Really
When we play the game, "Which animal do you look like?" There is definitely the potential for someone to get offended. But as far as animals go, the bear isn't the worst animal one could be compared to.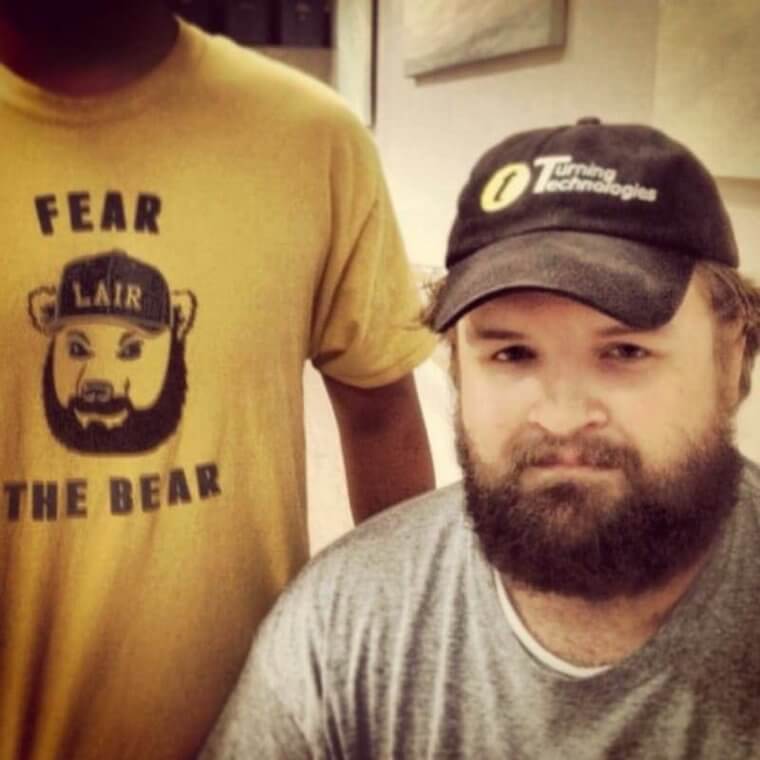 So should this guy be offended that he looks exactly like the bear on this t-shirt? No, he doesn't need to be. Furthermore, the instruction is to 'FEAR' the bear, and this guy does look kind of scary.
26. This Cow Really Likes His Human's Shirt
This kid loves cows, so you know what? The cow loves him too. As he stares at that picture of himself on that kid's t-shirt, he knows that he is loved.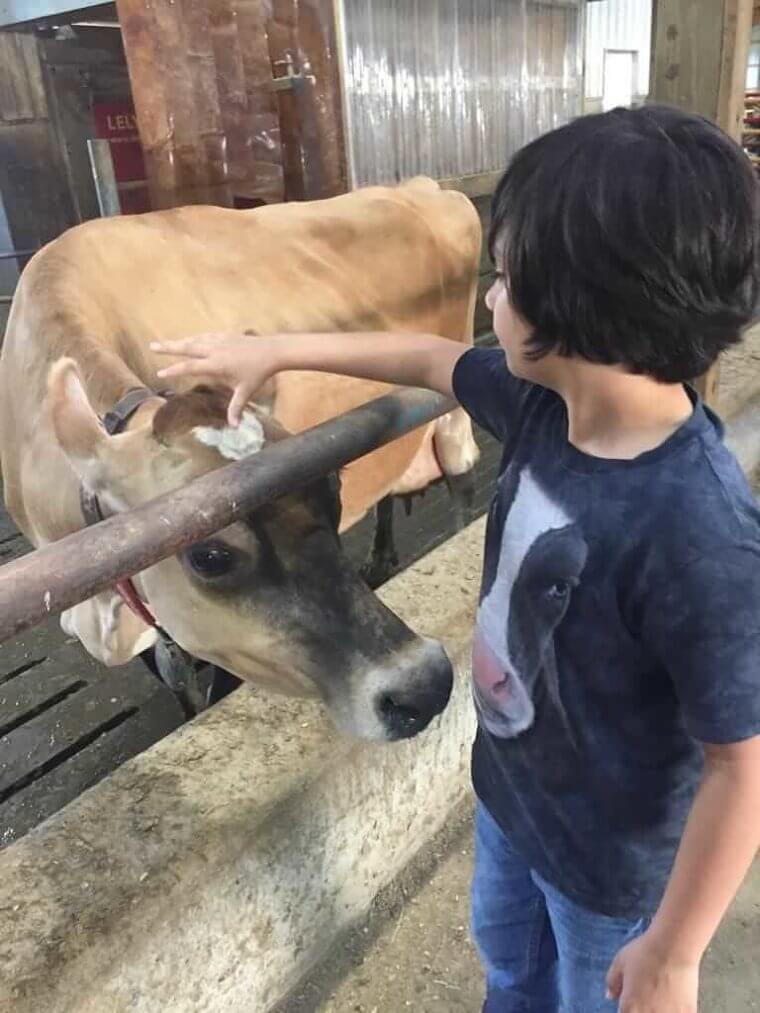 This picture shows the adorable nature of kids and their favorite animals. We'll hold this image in our hearts forever.
27. Perfect Numerical Coordination
This guy entered a marathon, not thinking much about his number. Turns out, according to his shirt anyways, he was fated for it.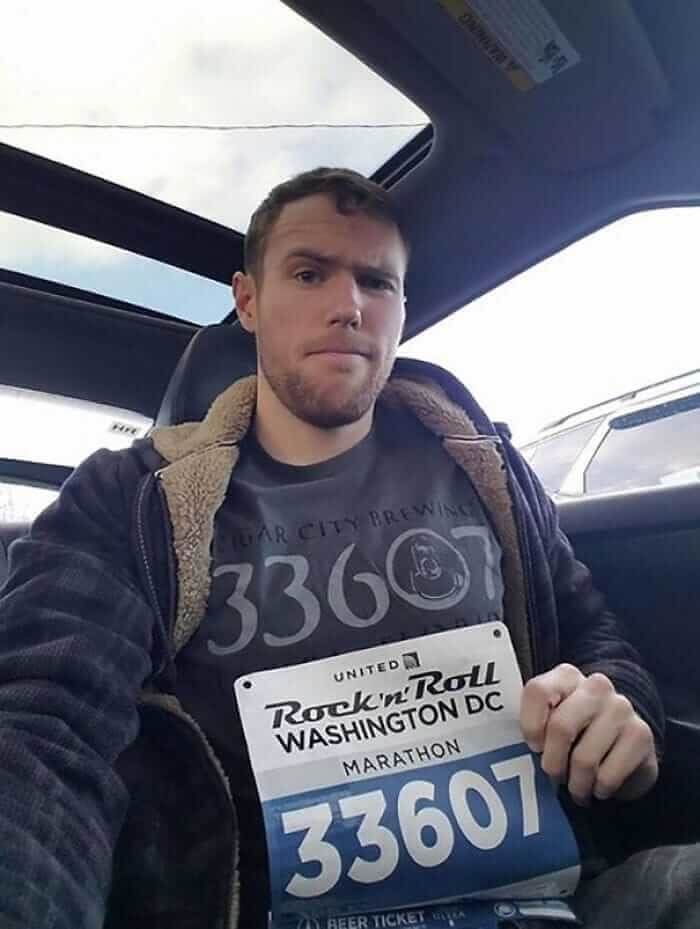 Posing with the numbers before he started running, this guy must have known that this was a good luck omen. Such great matches don't happen like this all of the time.
28. When You Awkwardly Meet Your Food
If you're going to a petting zoo we don't recommend wearing a shirt proclaiming your love for bacon.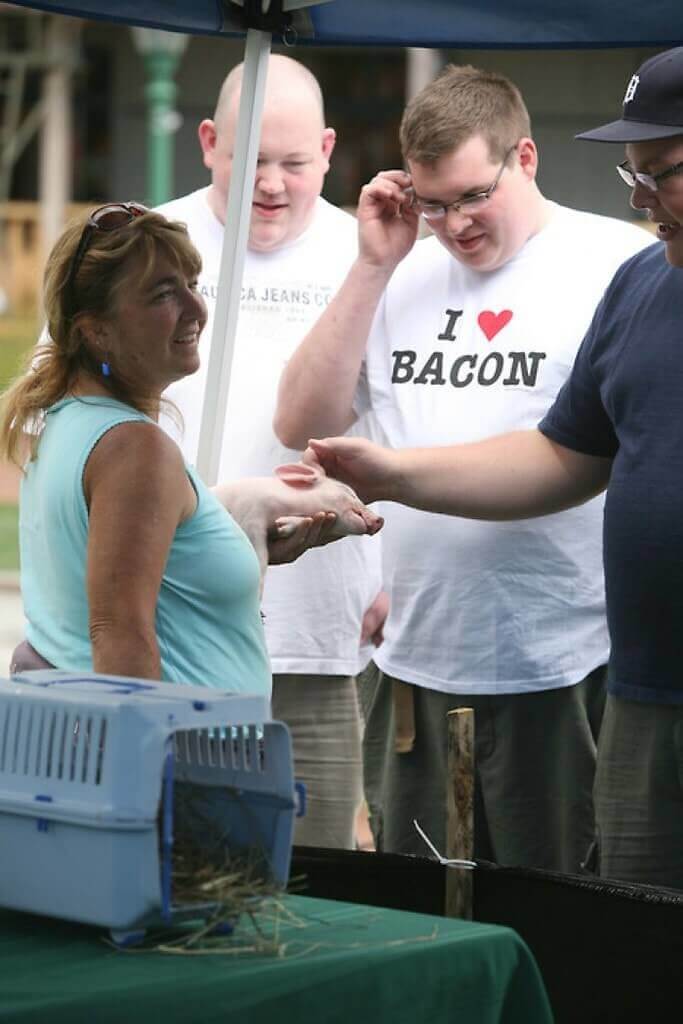 As he stood in front of this adorable baby piglet it seemed as if he was having to reconsider some of his lifestyle choices. Just seeming a bit guilty is an understatement. This guy is really trying to figure some stuff out.
29. Unofficial Bill Murray Fanclub Meeting
Let's be honest, we all love Bill Murray. At this stage, if someone doesn't love Bill Murray it's pretty much a crime. But these two guys have more love for the man than almost anyone else.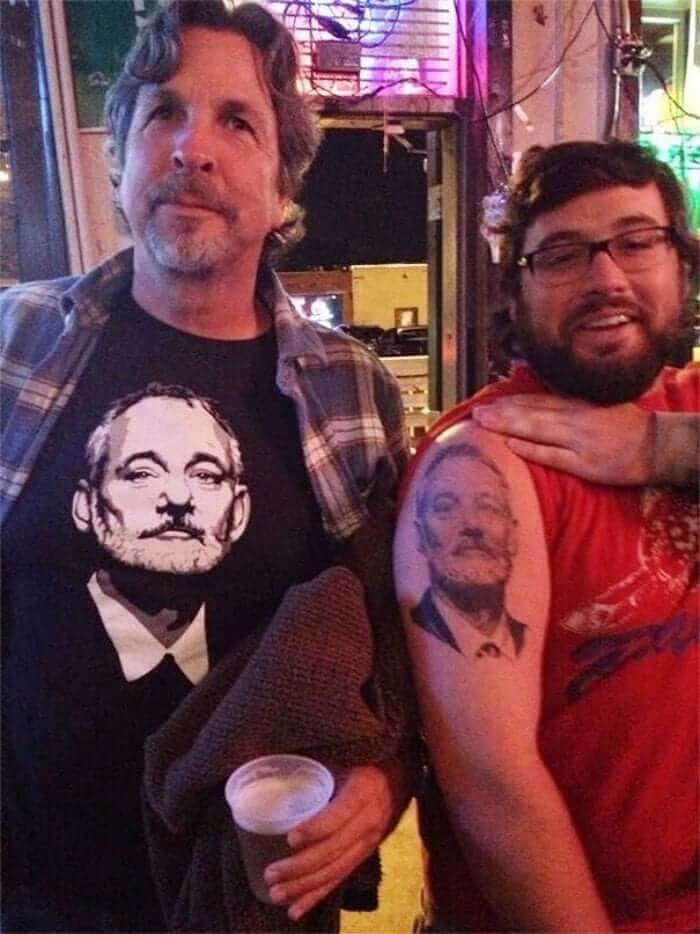 Meeting and realizing that one had a t-shirt and one had a tattoo of the exact same photo of Bill Murray just proves their love is true. Bill, we're here for you buddy, we all love you a lot.
30. Show Us Your Pearly Whites
A radiant smile can make all the difference to the way someone appears, and we absolutely love that. So what about when an unfortunate skateboarding accident leaves teeth, or part of a tooth, removed from the picture?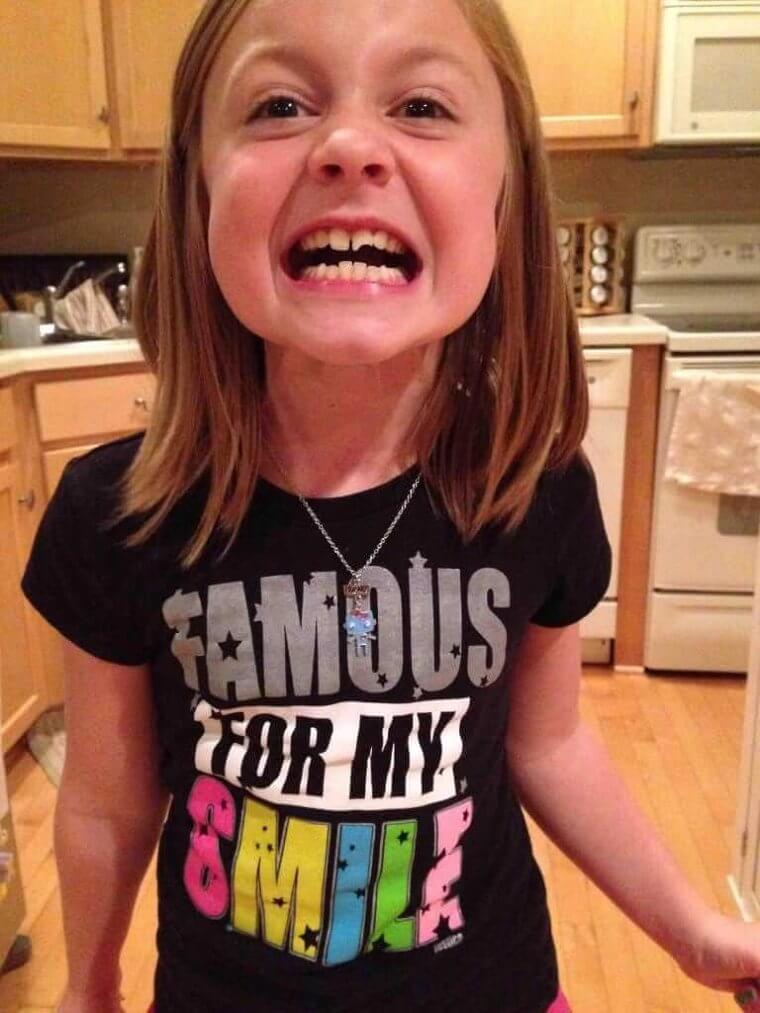 Well, the t-shirt that says 'famous for my smile' may not still apply. On the other hand, maybe it's exactly the fact that teeth are missing that means that the smile will generate so much fame.
31. Only Real Sonic Fans Will Get This
This guy is a Sonic the Hedgehog fan, otherwise, he wouldn't be wearing the t-shirt. Only true Sonic fans would know what the guy looks like who voices Sonic, and luckily, he wore his shirt on the right day.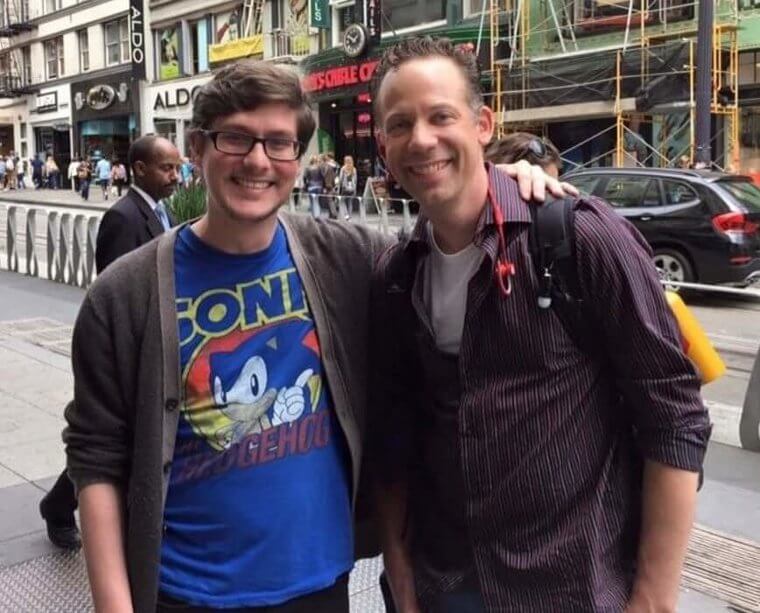 The chances of choosing to wear that exact shirt on the exact day you bump into the actor on the street are small, and we're so happy for this guy that this really happened for him. Thanks universe, you did well.
32. Who Wore It Better?
Listen, if you see a big billboard with someone wearing the exact same shirt as you, obviously you're going to pose next to it. 
Who wore it better? Well, that's for the crowd to decide. We know our answer, do you?
33. When The Names Add Up Perfectly
The Wu-Tang Clan were iconic to so many people, and remain so today. The amazing coincidence of these two girls sitting next to each other with matching last names is perfect.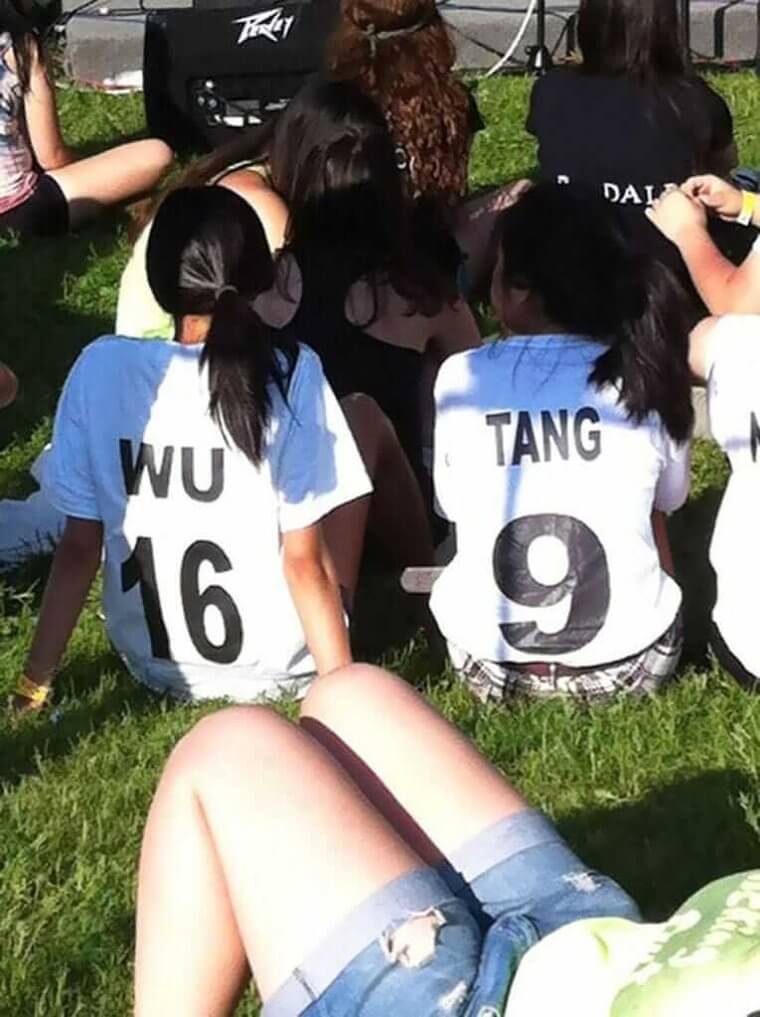 We can only imagine the excitement of the person taking the photo when they noticed what had happened. Wu-Tang fans unite, this is one cool happening.
34. A Picture Is Worth A Thousand Words
This guy's t-shirt just said two words; "Oh snap." Also the expression on his face just seems to portray that exact emotion perfectly. No words needed.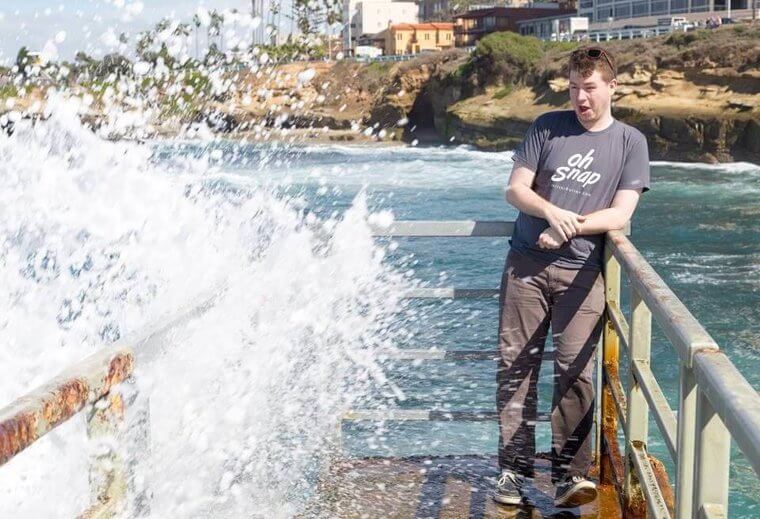 The timing of the wave splashing with the way the words written on the guy's shirt just proves that sometimes everything in the universe lines up perfectly.
35. Low Expectations Mean No Disappointment
What did you want to be when you finished high school? Well, if you set your bar high then you probably had a big task ahead of you and a lot to work for. This guy did not have that problem.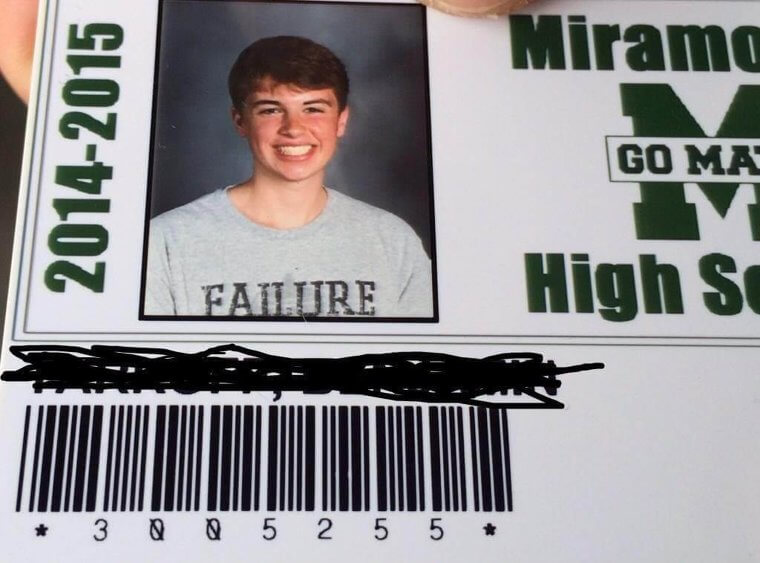 Wearing a t-shirt that simply said 'failure,' there was no way that this guy was going to let down the people around him. Instead, the only way was up, baby.
36. When The Joke Doesn't Make The Cut
This guy met all Star Wars fans' ultimate dream person; George Lucas, the creator of the franchise. What was he wearing when this happened? A terrible t-shirt that said, 'Milk, I am your father.'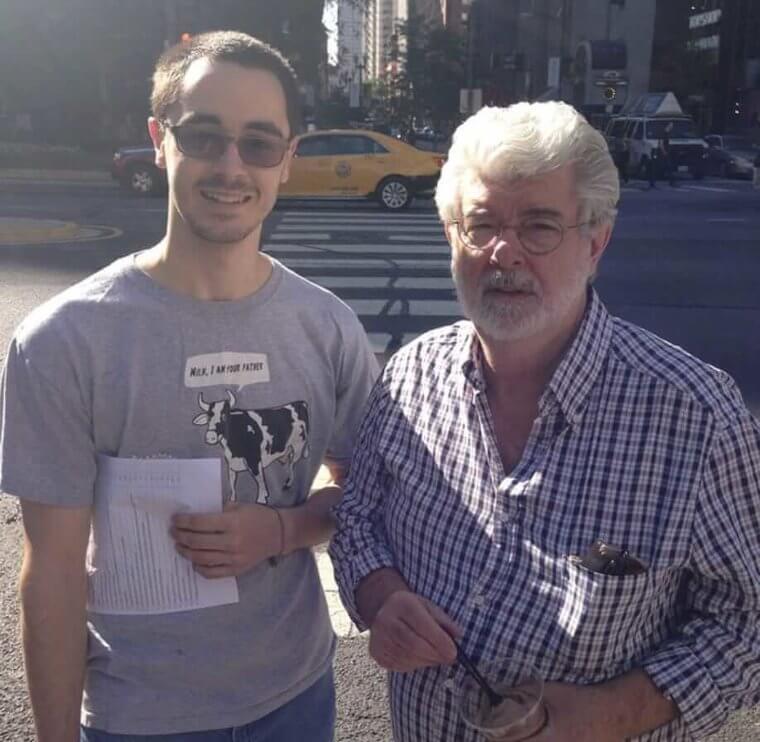 Let's be real, the joke is bad. We think so, George thinks so, even the cow thinks so. But let's be even more honest; this is why the photo ends up being so amazing.
37. Android Vs Apple Wars: A Bit Too Real
If you're the kind of tech nerd that would wear a t-shirt with a picture of an android eating an apple on it, well congrats, you're a real tech nerd.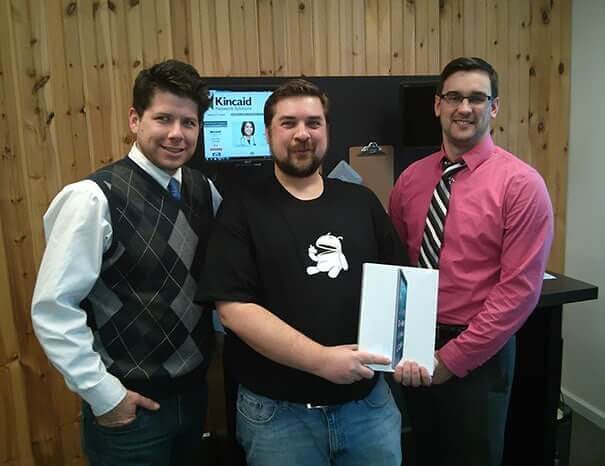 This would explain the surprise and discomfort on this guys' face when he is being presented with a brand new Apple product. Like, he's not going to refuse the new tech equipment, but he does look a bit bashful. And rightfully so.
38. Team Rivalry Will Not Be Overlooked
Listen, if you meet a famous sports star you just better hope that you end up wearing a shirt that supports his team. If you don't? This could be what ends up happening.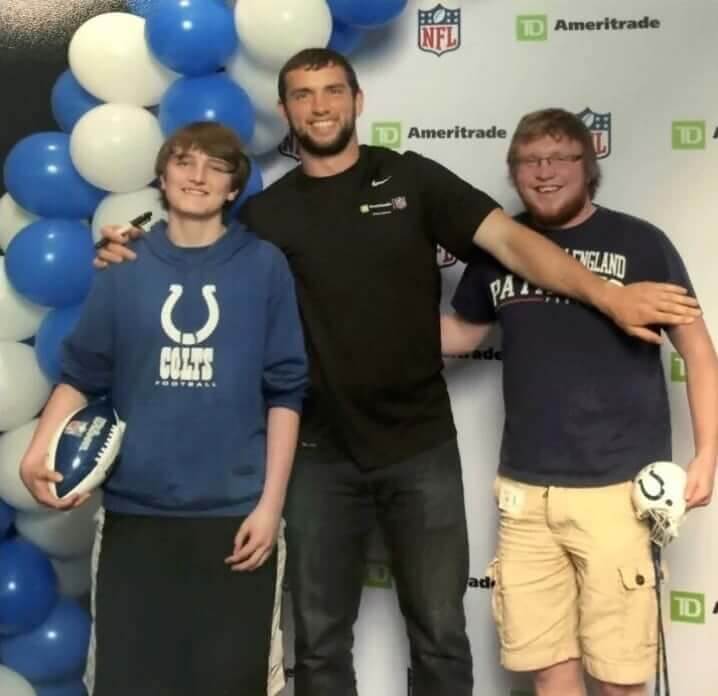 Straight up humiliation and embarrassment. Bad choice of t-shirt that day, sir, bet you regret that one. On the other hand, we think the end result is hilarious.
39. We'll Never Get Bored Of Bill
Bill is such a beloved icon, it's hardly surprising that so many people catch photos with him when they're wearing t-shirts with his face on them. Like, if you think about how many people love wearing Bill Murray t-shirts, the odds aren't actually that low of something like this happening.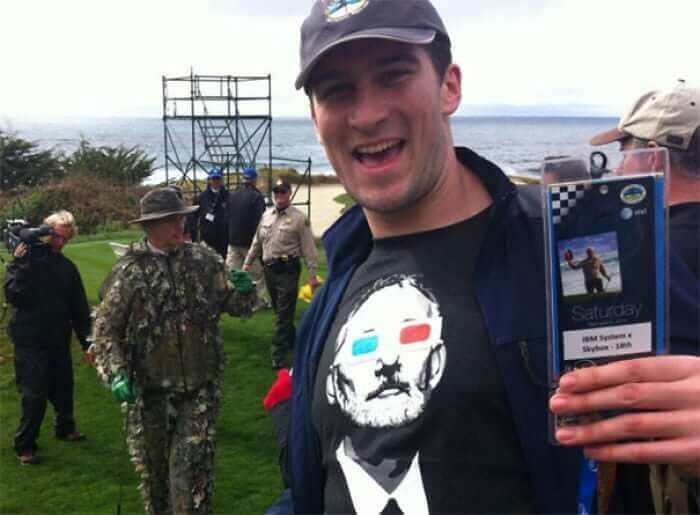 Ok, maybe they are. It's still super cool either way. We just hope one day we can snap a selfie whilst we're wearing a Bill t-shirt too.
40. Playtime Is Every Time
Who cares if the actual playground is closed? These kids can play on their dad's t-shirt.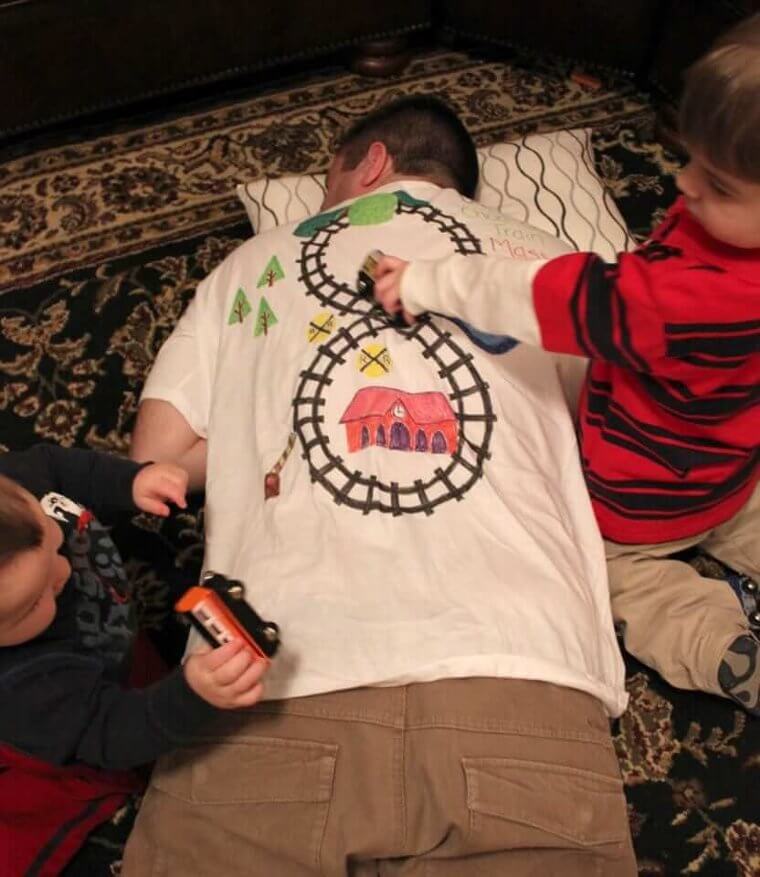 He's happy about this because he gets to nap. It's a win-win situation, and everyone leaves happy. Love it.